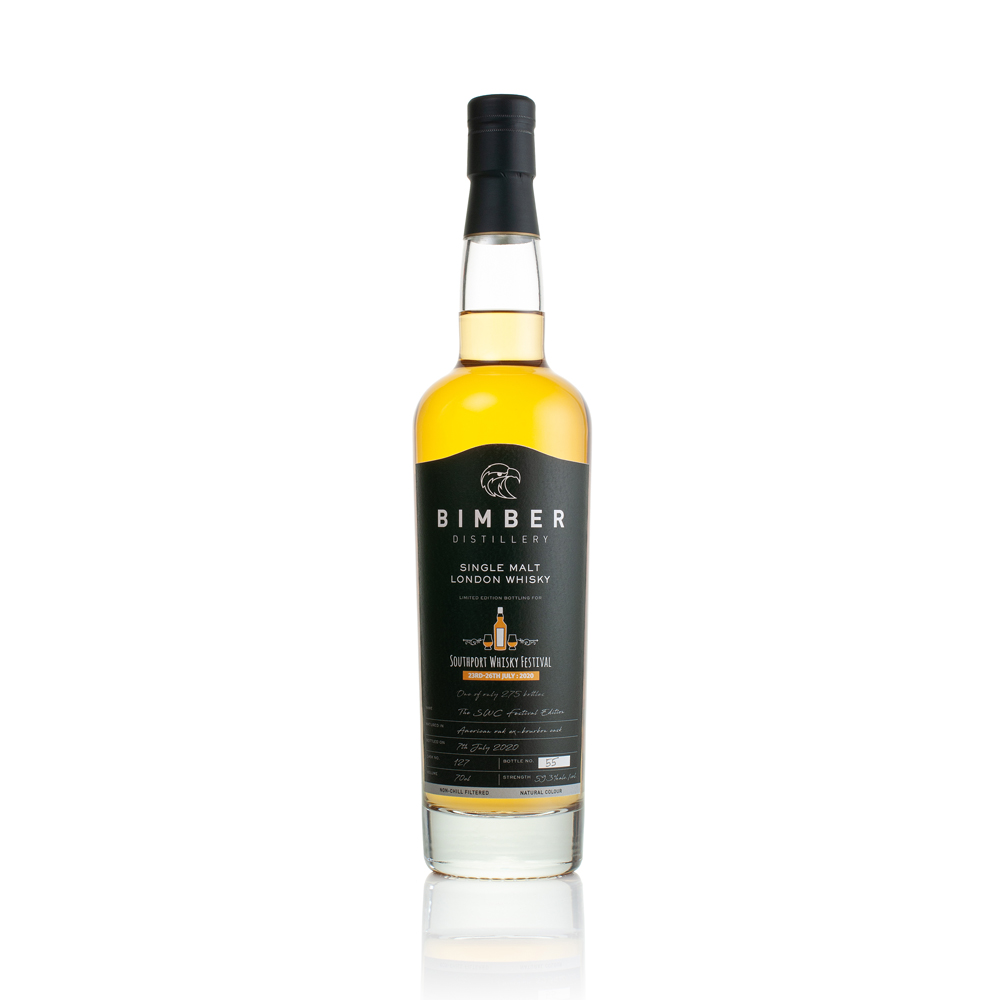 Bimber Single Cask #127
The Southport Whisky Club exclusive bottling of Bimber's cask #127. Aged in a single ex-bourbon cask.
Distillery: Bimber
Bottler: Distillery Bottling
Age: NAS
ABV: 59.3%
Size: 70cl
Number of bottles: 275
---
---
Southport Whisky Festival 2020 Bimber Exclusive Ex-bourbon cask #127
Decisions, decisions: the devil is in the detail
Selecting a cask to be bottled as an exclusive whisky is not an everyday occurrence for most people – nor is it necessarily an easy choice!
As part of our Southport Whisky Festival 2020 line-up we were offered the fantastic opportunity to pick the Bimber cask we wished to bottle. The distillery sent us cask samples from four ex-bourbon casks (all roughly 3.5 years of age) and we set about the difficult task of deciding which would be the most suitable to bottle as our festival exclusive. Decisions, decisions.
Victor invited us over to his place for a 'socially distanced' side-by-side garden tasting of casks #66, #74, #127 and #153. All unique and with their own merits.
Casks #66 and #74 were both excellent examples of ex-bourbon matured Bimber spirit. They were very typical of the distillery's fruit-forward, spicy style and with little to choose between them. We could have quite easily bottled either and been very happy with the results.
Cask #153 was felt to be solid – with an array of fruity notes and an interesting background dustiness. But in what was a very strong line-up it didn't pull us in enough to merit being bottled as our single cask.
It was cask #127 that we felt really stood out from the crowd. Unmistakably Bimber, but with a vibrancy that made it rather special…sweeter and fruiter than the others, it sang. The Bimber spirit is of such good quality and when paired with a sympathetic cask, the results are amazing. Cask #127 had that 'little bit extra' which made it the obvious choice to become our exclusive bottling.
It was a real privilege to be involved in the process – we're very excited about this release and hope you enjoy drinking it as much as we enjoyed picking it.
< Previous Bottle Next Bottle >
---
Back to bottlings